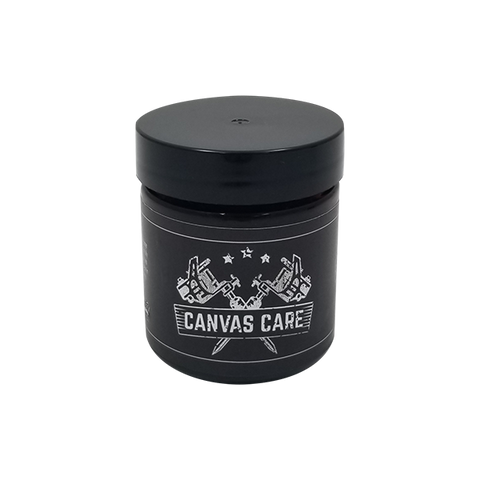 Canvas Care Tattoo Cream
100% Natural  AFTER & CONTINUED TATTOO CARE 
Your body is a canvas and the ink work deserves to be cared for. Our all-natural tattoo cream is perfect for healing your new tattoo, reducing peeling and itchiness.
Natural Oils
Olive
Sweet Almond
Hemp seed
Jojoba 
Rich in Proteins, Vitamin D, vitamin E and high in Omega fatty acids. These oils are extremely nourishing to the skin through moisturization on both dry and irritated skin.
Natural wax (Candelilla)  
Very rich in conditioning nutrients and easily absorbed into the skin while creating an instant barrier to prevent moisture loss.
Shea butter
Hailed for its protective and emollient properties. High amounts of Vitamin E and other natural active elements. A natural moisturizing agent for the skin penetrating deeply leaving a smooth, satiny finish.
Citric acid & Silver Citrate
All-natural preservative and antimicrobial.
Formaldehyde Free 
Paraben Free 
Nonhalogenated 
No Phenols 
No oilphase migration 
This product is also Vegan friendly.
---
We Also Recommend