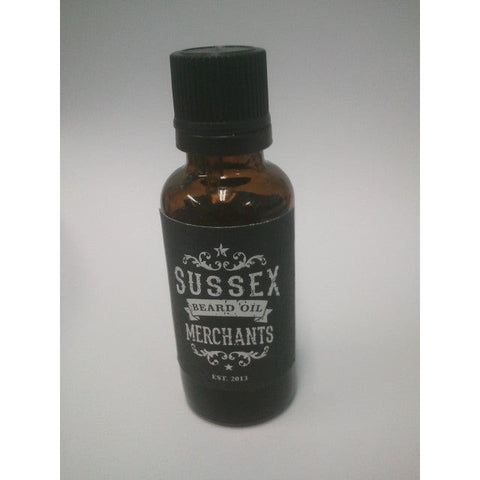 Sussex Beard Oil
"To ensure optimal beard health for all our customers, we have created a carefully balanced blend of the following natural ingredients, each chosen for its ability to moisturize, nourish, and stimulate not only your beard, but the skin beneath:
Carrier oils: -Sweet Almond Oil - Prunus dulcis var. Dulcis (emollient, high in vitamins A, B1, B2, B6, and E (which is also a natural preservative), great for dry skin and hair) -Coconut Oil - Cocos nucifera (antibacterial, antifungal, moisturizing, soothing, natural sunscreen, good for eczema and psoriasis, stimulates hair growth, conditions hair) -Argan oil - Argania spinosa L. (anti-inflammatory, good for acne, psoriasis, eczema and scars, improves skin metabolism and moisture retention, moisturizes and adds shine to hair and nails)
Essential oils: -Mountain Cedar – Juniperus ashei (woody scent, helps with dandruff) -Field mint - Mentha arvensis (good for eczema) -Lavender - Lavandula angustifolia (skin-healing, antibacterial, dandruff, rashes, scars) -Rosemary - Rosmarinus officinalis (hair loss, dandruff, greasy hair) -Tea Tree - Melaleuca alternifolia (dandruff, oily skin, rashes, sunburns – antibacterial, antisceptic, antifungal, anti-inflammatory, etc.) -Grapefruit - Citrus racemosa (antibacterial, astringent – stimulating scent, good for oily skin and hair)
100% natural ingredients – no artificial scents, no preservatives, just pure, earthy goodness.
---
We Also Recommend